Timeless Style, Unrivaled functionality
The Materials
Made with high quality, ethically sourced leathers by our master artisans, each piece executes utilitarian style while powering safe, fair-wage Haitian jobs and environmentally conscious production.
Features
Fits airline carry on requirements
Interior Pocket, Outside Pocket, and Shoe Compartment
Designer Cotton Twill Liner
Adjustable shoulder strap (up to 55 inches)
Our Guarantee
Fairness is our focus at Deux Mains, and although your Deux Mains product was crafted to last, there may be the odd exception. For any item that does not stand the test of time, please tell us, and we'll be glad to replace or repair this for you.
A closer look at the collaboration
A catastrophic earthquake brought Billy to Haiti in 2010, where his military security company was donating a much-needed prefab hospital. Knowing the challenges a donation can face in a disaster zone, Billy accompanied the donation to ensure it went toward helping the people who truly needed it.
Customer Reviews
11/24/2023
Mike W.

United Kingdom
Billy just rocks and whatever support I can give makes me happy . Thanks for your service mark .
10 out of 10 . Great idea helping put money in their pockets . Hope to see you again soon
07/20/2023
Aaron B.

United States
Duffle bag
Exceeded all expectations. This is my first hand made item and totally thrilled with the quality of craftsmanship. Will certainly seek out other items. ab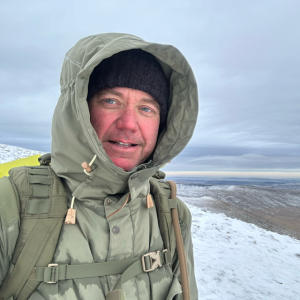 FP
05/15/2023
Ferdinand P.

United Kingdom
Great bag; real-world review after three months of ownership
I've taken the Mission Essential Duffle Bag on trips to Scandinavia, Northern Europe, New York and the Pacific over three months of ownership and am now in a position to provide honest real-world review. Appearance: I think Deux Mains/Billy Billingham have hit the nail on the head with this solid dark coloured bag with very subtle blue accents adding to a casual appearance. I'd describe it as 'stealth luxury' where you can move through any environment without attracting unwanted attention. It's only sat in an airport lounge or hotel lobby where someone studying the bag will pick up on the craftsmanship, understated leather label with 'always a little further' and overall hardcrafted luxury and tough durability of this leather duffle bag. I look forward to finding out how the look of the natural leather evolves over years of intense usage! Practical application: It's got the right amount of organisational capacity with a number of integrated pockets and zips for passport, documents, shoes and quick access to bits and bobs while retaining a solid main storage compartment for clothes and/or larger items of kit. It could act as a go-bag though I personally use it as an all-purpose travel bag either on its own or to complement a suitcase. Stitching feels strong and the brushed copper tone buckles have a nice solid classic feel to them. It's big enough to fit everything you need for a weekend or for longer trips by plane perfect as carry-on luggage (in addition to suitcase) with enough space for spare sets of clothes and items to sustain you for up to 48 hours if luggage is lost or another type of emergency. Comfort: This bag can hold a lot of stuff so if you pack it fully be prepared to carry up to 35lbs through airports and walks to and from hotel, in and out of transport vehicles etc. I tend to carry it to full capacity and the leather shoulder sling is surprisingly comfortable. I'm not used to fully leather straps and was nice to discover a level of natural elasticity as you move and bounce. Solid handles are an alternative way to carry it and all in all this bag allows for quicker "get up and go" than a wheelie suitcase and immediate access to the main storage compartment with high quality zip with leather pullpatch attached. Overall experience of purchase and ownership: Without wanting to spoil the experience let me just say this bag is delivered with a number of extra personalised touches which fans of Marc Billy Billingham (like me) will definitely appreciate. It's great to know that sustainable materials have been used and it supports hardworking Haitans in the aftermath of the eartquake. Because only a handful of people will recognise this bag for what it is I really feel like I own this bag for "me". My personal satisfaction of knowing it's designed by a former RSM of b sqn 22 SAS who's rotated through Counter Terrorism, jungles, deserts and mountain deployments and knows a thing or two about having the right kit for the job at armslength. Walking around with this bag helps and inspires me to stay focused on achieving my goals for the trip I'm on. Whether it's a job or holiday!